Green antioxidant rich drink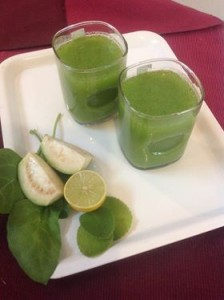 This consist of Baby spinach ,tulsi,ajwain leaves from kitchen garden, guava and dash of lemon juice…..go green.
Spinach is an excellent source of vitamin K, vitamin A (in the form of carotenoids), manganese, folate, magnesium, potassium, and vitamin C.
Tulsi holy Indian plant has many benefits like it has anti-bacterial and anti-biotic properties hence treats cold, cough fever and also increases immunity.
Ajwain leaves help in digestion and acidity
Guava and lemon will give vitamin C which again is a powerful antioxidant.
Green foods get their color from a pigment called chlorophyll,they high amounts of Vitamin K,lutein and zeaxanthin, phytochemicals such as indoles and glucosinolates and potassium.
Why you should eat more:
Chlorophyll, a natural blood purifier supports the liver and kidneys in the elimination of toxins. Vitamin K is necessary for blood clotting and building strong bones.Lutein and zeaxanthin can filter out harmful light that damages the eyes.
A daily serving of this can slash your chances of having a heart attack, very good for digestion, in both high and low BP.
Mrs Shilpa Mittal
Nutritionist and Diet Consultant
Founder Shilpsnutrilife - Diet and lifestylemakeover